Let MoneyTime do the teaching for you, with our online financial literacy program for children.

MoneyTime gives your child the knowledge they need to make good financial decisions as they grow up.
Why teaching your child personal finance is so important
Our young people are more at risk of incurring bad debt than any previous generation. They have more access to cellphone plans, online shopping, credit cards and high-interest loans and no knowledge to help them to make better life choices.

Being good with money is an essential life skill for a successful future and is something all children should be taught.
What if teaching your child about money could be simple and stress-free?
With MoneyTime it can be. Understanding personal finance and how to manage money is an essential life skill but it's one that many parents struggle to teach their children. If you didn't receive sufficient financial education it can be difficult teaching personal finance to your kids.

That's why MoneyTime is self taught so you don't need to worry about what or how to to teach your children about money.

We make it easy by providing a comprehensive financial literacy program that teaches kids everything they need to know. The program is built to be interactive by combining lessons with a game so that children enjoy the learning process.
MoneyTime is fantastic! Since my children began the program, they've started a business, are growing plants and hatching chickens to sell, and have created resumes and applied for jobs. We've always had many conversations about money, but MoneyTime has provided the motivation for action. Thank you for an incredibly practical and useful resource!
Kelly George

The great thing about this is that it takes the learning out of a game and makes it real since you are talking about your own family's choices. If you have kids who like to spend time on the computer, this online program is just the ticket. After using the program for a couple of months, I would say yes, it is worth the money, because it is a very thorough program that covers a lot of topics that your kids need to know.
Sheila Rogers

You can't manage money without understanding how it works, but money is complicated! This is where a program like MoneyTime is gold! This program is very thorough! It teaches the basics, like how a savings account works. Kids have the option of investing in education for higher future earnings. They also get to see how different career choices lead to different earning potential. But that's only the beginning!
MaryAnne Kochenderfer

My Kids love this program. Even my surly teenage son. He has just been explaining how he invested in training in the program to get a better job and has been investing virtual money. He has now started saving more and spending less real money from his casual job.
Christian Todd

I feel so good about adding this into what my children are currently learning. I am impressed and would recommend this to anyone and everyone!
Jennifer Stall Nieves

It's such an amazing real life education program learning how to manage your finances and make career choices. My 12yr son who is homeschooled has made an amazing CV and knows how to apply for jobs. This needs to be taught in all schools.
Linda Ann Jordan
MoneyTime has been used and enjoyed by over 60,000 children
Learning happens organically as children play the MoneyTime game.
Reinforced learning by putting lessons into real life context
The decisions made within the game have simulated real life outcomes. This helps children understand the impact of their choices and gain an understanding of how much things cost and what is required to achieve key financial goals such as purchasing property.
Parent-child modules
The program contains 13 modules specifically designed for you to complete with your kids. These help reinforce your child's learning and, most importantly, these modules put their learning into your family context and give you an opportunity to have some real conversations about money and the future with your child.

Give your child the financial education you wish you had
Get MoneyTime today!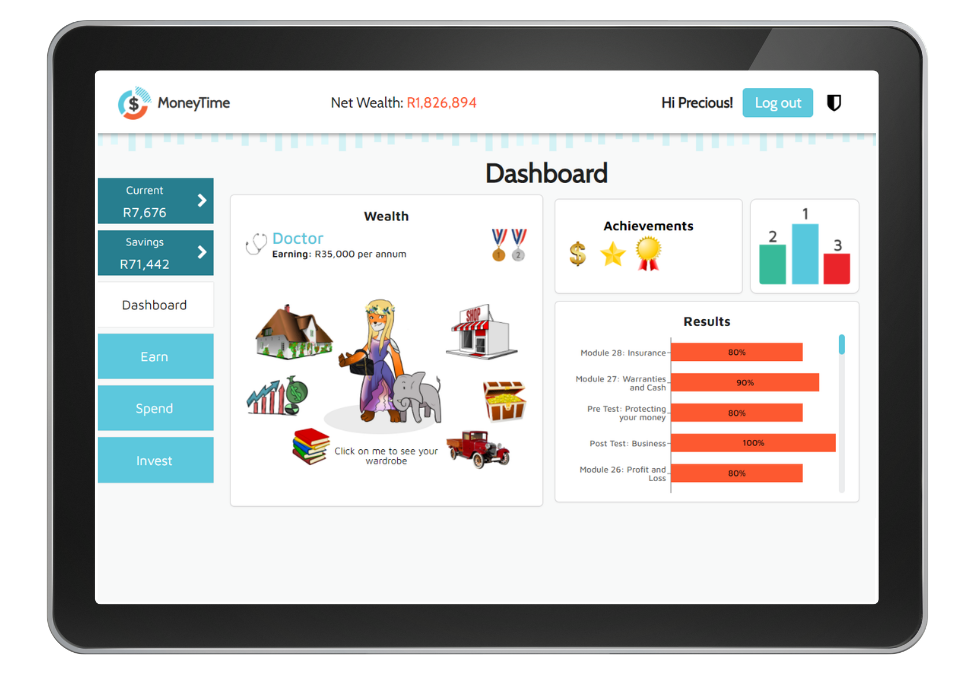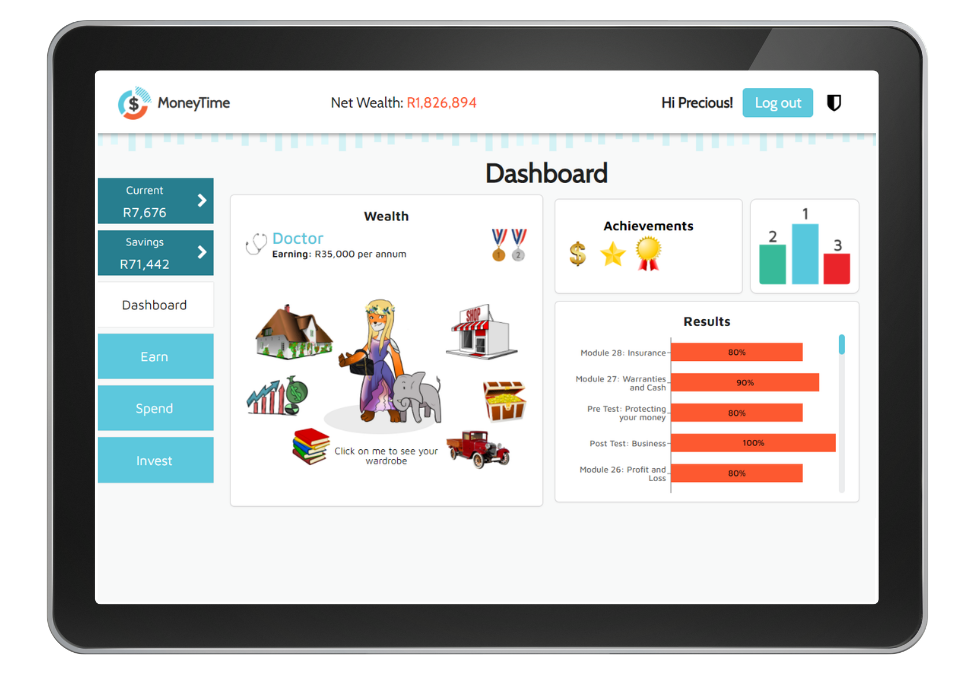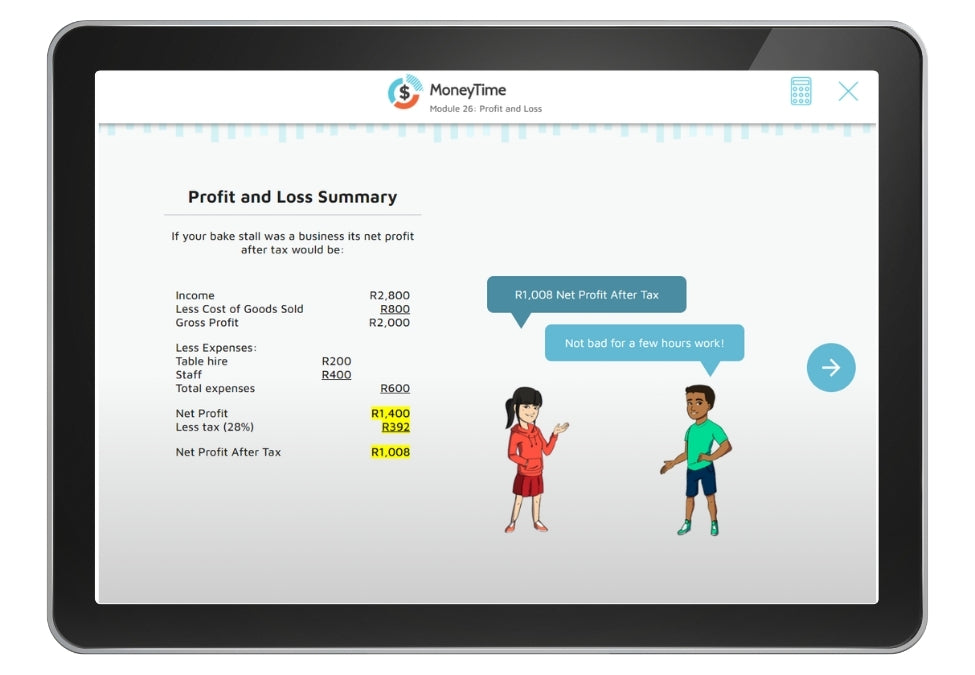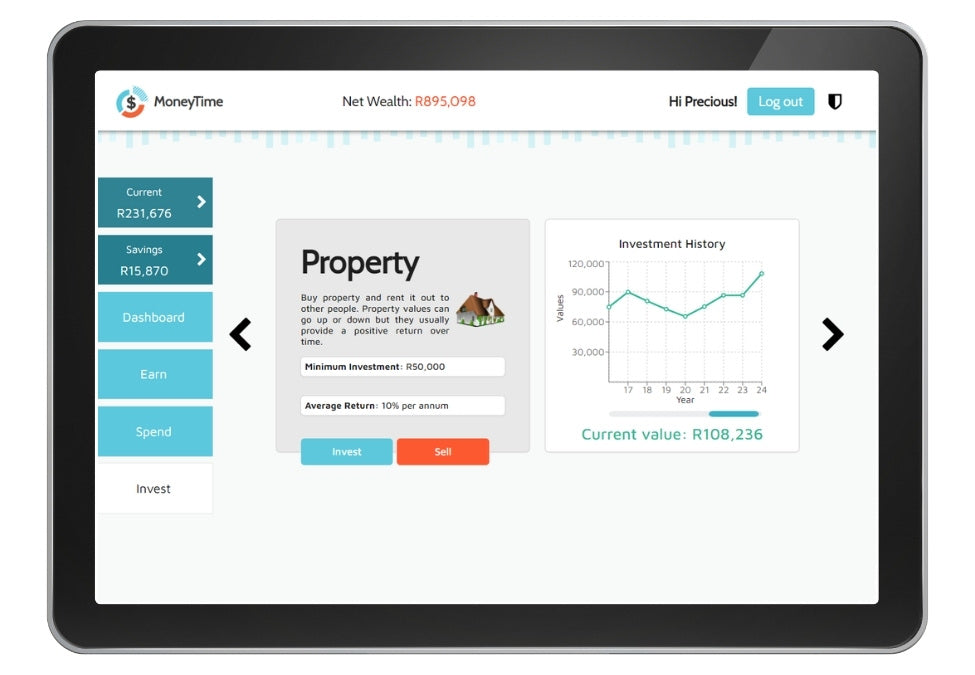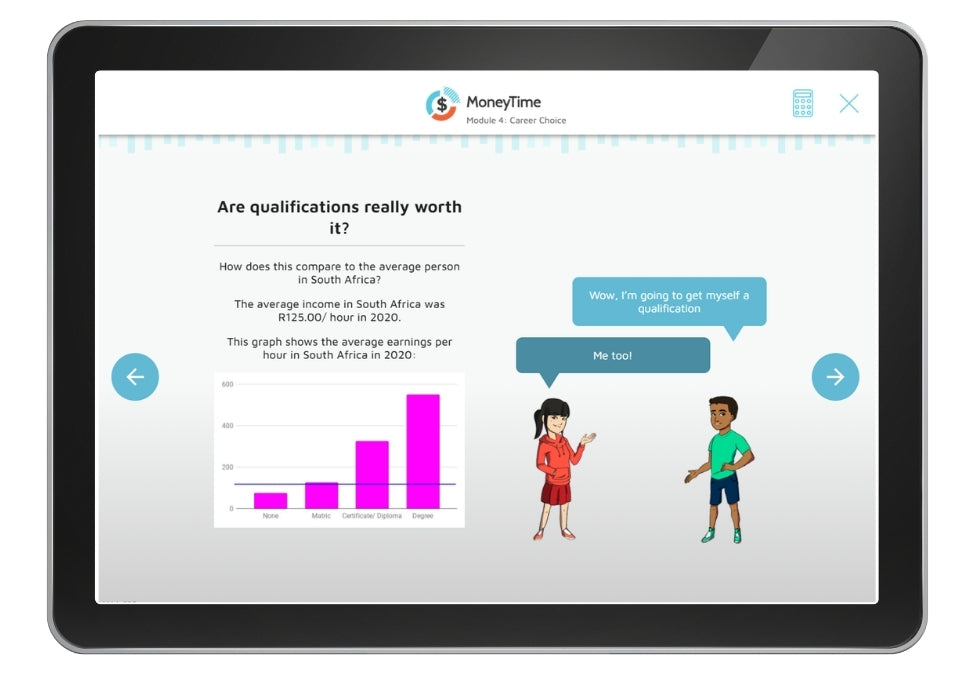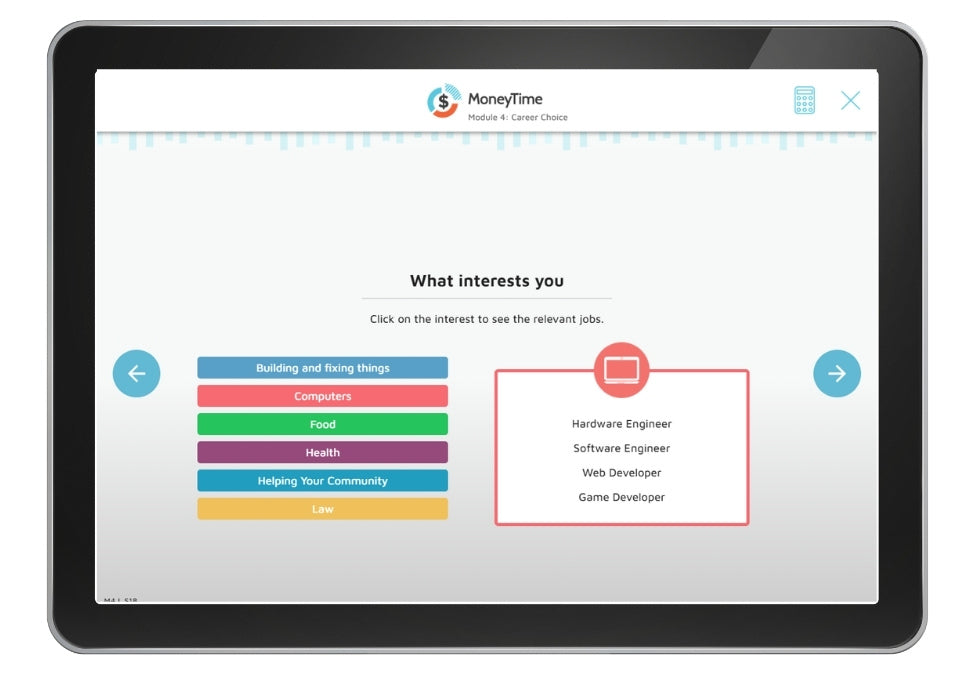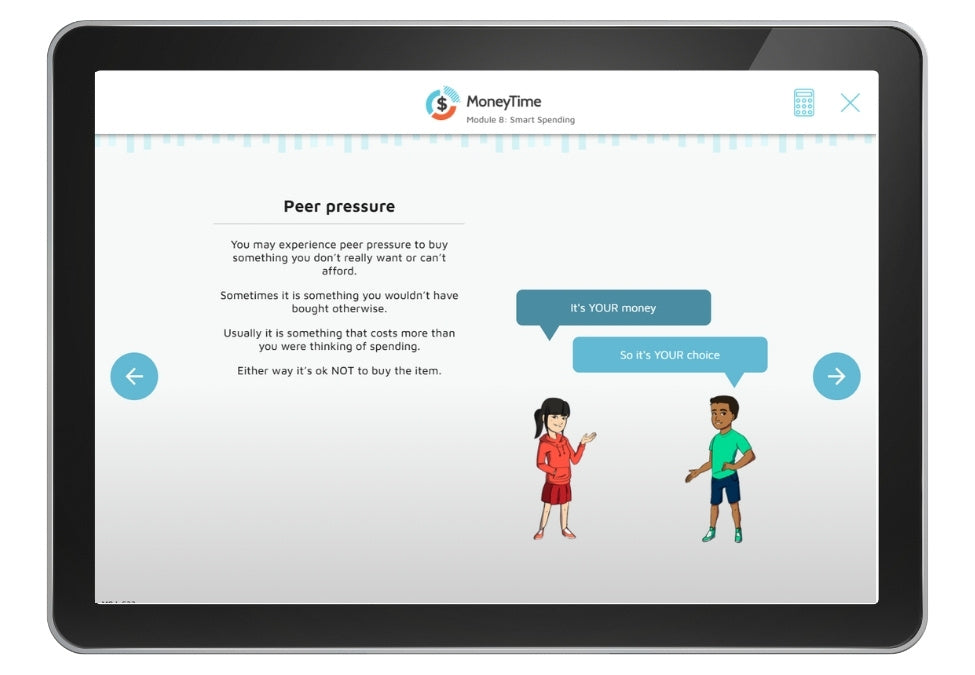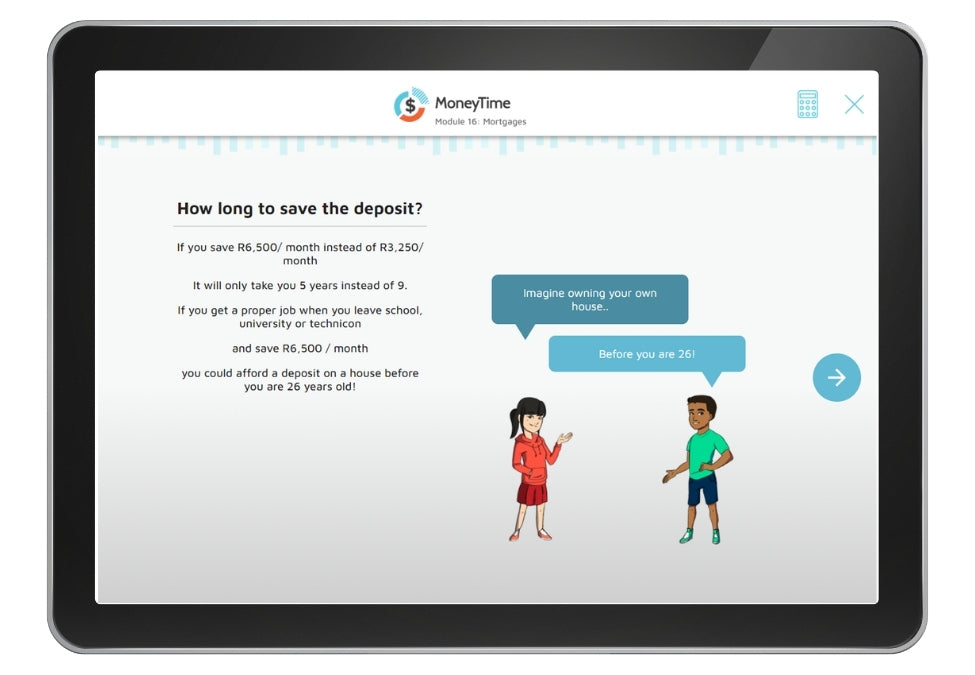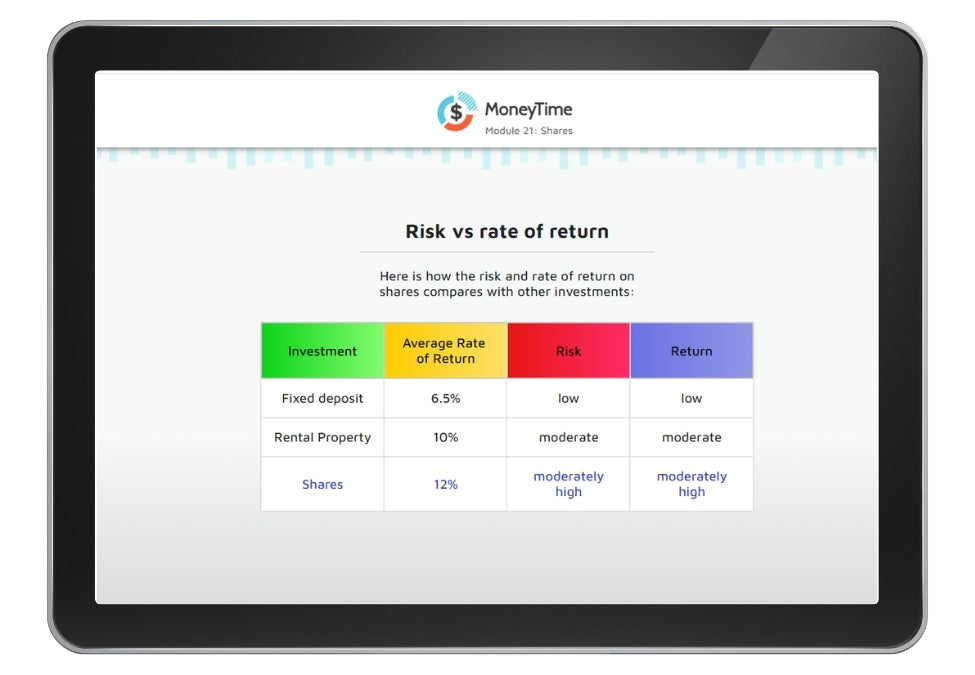 Financial Literacy for Kids - Online program
R 995.00
Add additional children for R746.25 each and save 25%
Select the number of licenses required:
Parent Study Guide full of guidance and practical activities

Equally usable in Maths, English, and Social Studies

No parental knowledge or supervision required

Suitable for students in grades 5 through 7

Positive screen time for children

Automatically marked quizzes

Awards, leader board, certificates
60 Day Money Back Guarantee
You can try MoneyTime completely risk free.
If you're not happy, we'll refund you in full.
Frequently Asked Questions
Stay In Touch
Subscribe to our newsletter to stay up to date with our latest news